after...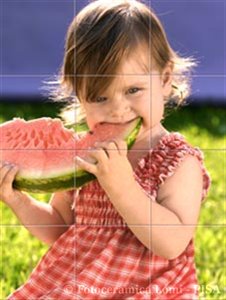 before...
Goodby brick red!
Fotoceramica Lomi
, who has always been in the forefront of technologies, has invented an exclusive process that allows to obtain a red tone that was unthinkable until just a few years ago.
The problem of the red tones has always been an insurmountable obstruction for all photo ceramists, independent of the technical process applied for the realisation of their photo ceramics.
Up till this day there were a lot of temptations to get around this obstruction.
Without any doubt the use of colours for glass in stead of the traditional colours for porcelain (at third firing) has been the most applied solution. The result was optically appreciable but turned to be a real disaster: after just a few months the colours suffered a pronounced chromatic alteration and lost quality in tone and brilliance.
The cause is to be attributed to the low temperature (500-600°C) one is constrained to fire the ceramics treated with the inappropriate colours for glass.
Fotoceramica Lomi
, strong thanks to an experience that goes back more than 20 years, has succeeded in inventing a revolutionary process that assures amazing results and guarantees an unlimited shelf-life.
The red colour that we realise is not reached by a compromise: in fact, together with the other colours it is fired at the traditional temperature of 900°C, resulting vivid and bright, that is to say: a real Ferrari-red!
And last but not least there is the chromatic contribution of our red to the other colours in the spectrum. In fact, red is one of the primary colours and its naturalness and brightness inevitably has an important impact on the entirety of the represented figure.
All those who had given up seeing their brand reproduced on ceramics or who had to be satisfied with a faded imitation of it can therefor smile radiantly.
From now on,
Fotoceramica Lomi
, after more than 5 years of experimentation, can finally affirm to have definitely resolved the problem of red tones.